Emma Stone Filmography All Movies Box Office Numbers
Emma Stone Filmography All Movies Box Office Numbers
Emily Jean "Emma" Stone is an American actress born on November 6, 1988 in Scottsdale, Arizona, to Krista Jean Stone, a homemaker, and Jeffrey Charles Stone, the founder and CEO of a general-contracting company.
Recipient of several accolades, including an Academy Award, a British Academy Film Award, and a Golden Globe Award, she was the world's highest-paid actress in 2017.
Stone appeared in Forbes Celebrity 100 in 2013 and in 2017, she was named by Time magazine as one of the 100 most influential people in the world.
Emma gained worldwide recognition as Gwen Stacy in the 2012 superhero film The Amazing Spider-Man and its 2014 sequel.
She went on to voice the lead female character Eep in The Croods (2013) and its 2020 sequel.
Was nominated for the Academy Award for Best Supporting Actress for playing a recovering drug addict in the black comedy Birdman (2014), and her Broadway debut came in a revival of the musical Cabaret (2014–2015).
For her performance as an aspiring actress in the romantic musical La La Land (2016), Stone won the Academy Award for Best Actress.
Portrayed Billie Jean King in the biographical sports film Battle of the Sexes (2017) and Abigail Masham in the historical comedy-drama The Favourite (2018), receiving a third Academy Award nomination for the latter.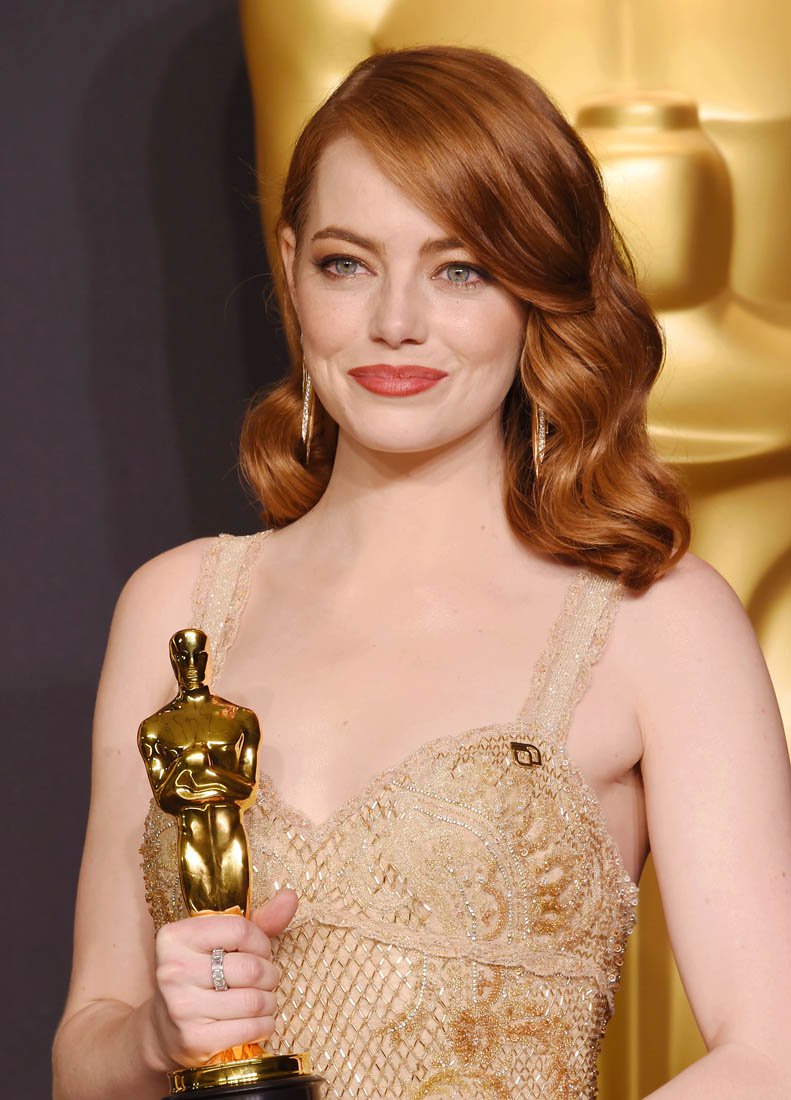 Emma Stone Filmography All Movies Box Office Numbers
| | | | | | |
| --- | --- | --- | --- | --- | --- |
| | Film | Release Date | Budget  | Domestic BO Collection | WW BO Collection |
| 25 | The Croods: A New Age | 25-Nov-20 | $65,000,000 | $39,279,465 | $130,087,465 |
| 24 | Zombieland: Double Tap | 18-Oct-19 | $42,000,000 | $73,123,082 | $122,810,399 |
| 23 | The Favourite | 23-Nov-18 | $15,000,000 | $34,366,783 | $95,918,706 |
| 22 | Battle of the Sexes | 22-Sep-17 | $25,000,000 | $12,638,526 | $18,598,607 |
| 21 | La La Land | 7-Dec-16 | $30,000,000 | $151,101,803 | $449,287,645 |
| 20 | Irrational Man | 17-Jul-15 | $11,000,000 | $4,030,360 | $27,391,084 |
| 19 | Aloha | 29-May-15 | $37,000,000 | $21,067,116 | $26,250,020 |
| 18 | Birdman or (The Unexpected Virtue of Ignorance) | 17-Oct-14 | $18,000,000 | $42,340,598 | $103,215,094 |
| 17 | Magic in the Moonlight | 25-Jul-14 | $16,000,000 | $10,539,326 | $51,029,361 |
| 16 | The Amazing Spider-Man 2 | 2-May-14 | $200,000,000 | $202,853,933 | $708,982,323 |
| 15 | The Croods | 15-Mar-13 | $135,000,000 | $187,168,425 | $587,205,319 |
| 14 | Movie 43 | 21-Feb-12 | $6,000,000 | $8,840,453 | $32,443,111 |
| 13 | Gangster Squad | 11-Jan-13 | $60,000,000 | $46,000,903 | $105,200,903 |
| 12 | The Amazing Spider-Man | 3-Jul-12 | $230,000,000 | $262,030,663 | $757,930,663 |
| 11 | The Help | 10-Aug-11 | $25,000,000 | $169,708,112 | $216,639,112 |
| 10 | Crazy, Stupid, Love | 29-Jul-11 | $50,000,000 | $84,351,197 | $145,051,197 |
| 9 | Friends with Benefits | 22-Jul-11 | $35,000,000 | $55,802,754 | $149,542,245 |
| 8 | Easy A | 16-Sep-10 | $8,000,000 | $58,401,464 | $75,026,327 |
| 7 | Marmaduke | 4-Jun-10 | $50,000,000 | $33,644,788 | $83,761,844 |
| 6 | Zombieland | 2-Oct-09 | $23,600,000 | $75,590,286 | $102,392,080 |
| 5 | Paper Man | 23-Apr-10 | | $13,514 | $13,514 |
| 4 | Ghosts of Girlfriends Past | 1-May-09 | $37,500,000 | $55,250,026 | $102,366,815 |
| 3 | The House Bunny | 22-Aug-08 | $25,000,000 | $48,237,389 | $70,439,696 |
| 2 | The Rocker | 20-Aug-08 | $15,000,000 | $6,409,528 | $8,808,935 |
| 1 | Superbad | 17-Aug-07 | $20,000,000 | $121,463,226 | $170,812,526 |
Highest BO Grossers Of Emma Stone
| | | | | |
| --- | --- | --- | --- | --- |
| Film | Release Date | Budget  | Domestic BO Collection | WW BO Collection |
| The Amazing Spider-Man | 3-Jul-12 | $230,000,000 | $262,030,663 | $757,930,663 |
| The Amazing Spider-Man 2 | 2-May-14 | $200,000,000 | $202,853,933 | $708,982,323 |
| The Croods | 15-Mar-13 | $135,000,000 | $187,168,425 | $587,205,319 |
| La La Land | 7-Dec-16 | $30,000,000 | $151,101,803 | $449,287,645 |
| The Help | 10-Aug-11 | $25,000,000 | $169,708,112 | $216,639,112 |
| Superbad | 17-Aug-07 | $20,000,000 | $121,463,226 | $170,812,526 |
| Friends with Benefits | 22-Jul-11 | $35,000,000 | $55,802,754 | $149,542,245 |
Lowest BO Grossers Of Emma Stone
| | | | | |
| --- | --- | --- | --- | --- |
| Film | Release Date | Budget  | Domestic BO Collection | WW BO Collection |
| Paper Man | 23-Apr-10 | | $13,514 | $13,514 |
| The Rocker | 20-Aug-08 | $15,000,000 | $6,409,528 | $8,808,935 |
| Battle of the Sexes | 22-Sep-17 | $25,000,000 | $12,638,526 | $18,598,607 |
| Aloha | 29-May-15 | $37,000,000 | $21,067,116 | $26,250,020 |
| Irrational Man | 17-Jul-15 | $11,000,000 | $4,030,360 | $27,391,084 |
| Movie 43 | 21-Feb-12 | $6,000,000 | $8,840,453 | $32,443,111 |
| Magic in the Moonlight | 25-Jul-14 | $16,000,000 | $10,539,326 | $51,029,361 |
Television
Year
Title
Role
2018
Maniac
Annie Landsberg
2017
Saturday Night Live
Herself
2016
Maya & Marty
Herself
2015
Saturday Night Live 40th Anniversary Special
Roseanne Roseannadanna
2015
Saturday Night Live
Herself
2014
Saturday Night Live
Gwen Stacy
2012
30 Rock
Herself
2012
iCarly
Heather
2011
Robot Chicken
Various voices
2010–19
Saturday Night Live
Herself (host)
2007
Drive
Violet Trimble
2006
The Suite Life of Zack & Cody
Ivana Tipton (voice)
2006
Lucky Louie
Shannon
2005
Medium
Cynthia McCallister
2005
Malcolm in the Middle
Diane
2004
The New Partridge Family
Laurie Partridge
Disclaimer: The Box Office Data are compiled from various sources and by our own research. These data can be approximate and Hollywood Filmography does not make any claims about the authenticity of the data